Dr. Dawood Farahi Announces 2020 Will Be His Last Year as University President
Recently, on the Class of 2020 Commencement of Wenzhou-Kean University, Kean University President Dr. Dawood Farahi announced this Commencement would be his last year serving as Kean University president. "I will graduate from Kean just like you." He joked.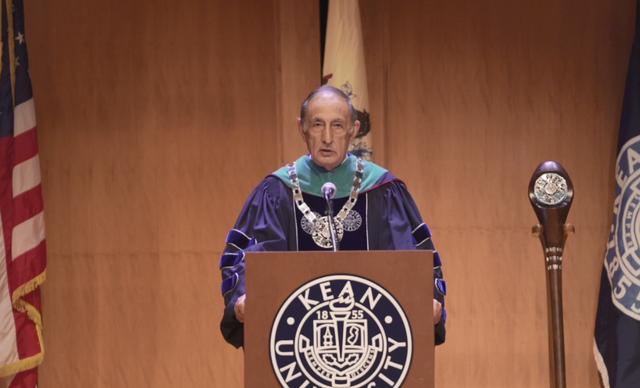 During his tenure of the Kean USA, Dr. Farahi made enormous contributions to the development of WKU. With tremendous efforts, he spearheaded the establishment of WKU. The past years have witnessed the rapid development of WKU. On this special occasion, Mr. WANG Beijiao, Chairman of the Board of Directors of WKU extended his heartfelt gratitude to Dr. Farahi. A special video was dedicated to him to express WKUers' gratitude.
Dr. Farahi started his career at Kean more than 30 years ago. Since his 2003 appointment as the 17th leader of the University, Dr. Farahi has championed a multitude of initiatives that have elevated both the quality and status of Kean University. He transformed Kean into a college of choice, remaining true to its roots in education while creating some of the region's most competitive academic programs in fields ranging from occupational and physical therapy to sustainability science and forensic psychology, to name a few. He also championed landmark programs in STEM, computer science and architecture with a specific goal of increasing the number of women and minorities participating in these fields, the establishment of Wenzhou-Kean in particular marking Kean the only public American university with a campus in China.
Dr. Farahi advanced the progress of establishing Wenzhou-Kean University as a high-quality higher education institution. He participated and coordinated comprehensively in the campus design and construction, curriculum arrangement and recruitment etc.
Each year, Dr. Farahi and his delegation would visit Wenzhou-Kean University. Over the past years, he has paid visits to leaders such as Mr. XI Jinping who is the president of China now, the Secretary of CPC Zhejiang Province (by then), Secretary of Shanghai Municipal Committee Mr. LI Qiang, Secretary of Zhejiang provincial Party committee Mr. CHE Jun etc. He negotiated multiple times with Wenzhou Municipal government on WKU's development. His sincere attitude and pragmatic work style won the appreciation of the governments at all levels. His endeavors facilitated China -U.S. cultural exchanges, strengthened the bond between the two parties, serving as the bridge between Wenzhou and the international community.
With his full supports, major events such as China-U.S. (Wenzhou) Dialogue on Cultural and Economic Cooperation, Sports and cultural exchanges between Chinese and American colleges and universities were held in WKU campus. Besides, he also invited the internationally renowned architect Michael Graves to construct WKU campus. He actively promoted the image of Wenzhou-Kean University on international stages, such as the National Congress of American University Presidents, the China International Education Annual Conference, the National Association of Colleges and Universities Council Annual Conference, and thus drawing the global attention to Wenzhou-Kean University and Wenzhou city.
To honor his tremendous dedication, he was awarded the "Yandang Friendship Award" in Wenzhou, "Honorary Citizen of Wenzhou", and once again honored as "West Lake Friendship Award" by Zhejiang Provincial Government.
Writer: Alisa LAI