【Times Higher Education】The power of partnership
Recently, Times Higher Education Periodical has published an article entitled The power of partnership, the full text follows.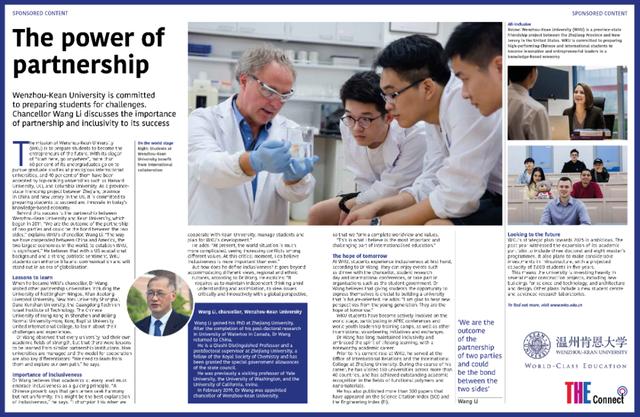 Wenzhou-Kean University is committed to preparing students for challenges. Chancellor Wang Li discusses the importance of partnership and inclusivity to its success.
The mission of Wenzhou-Kean University (WKU) is to prepare students to become the entrepreneurs of the future. With its slogan of "start here, go anywhere", more than 60 percent of its undergraduates go on pursuing graduate studies at prestigious international universities; 40 percent of them have been accepted by top-ranking universities such as Harvard University, University College London and Columbia University. As a province-state friendship project between Zhejiang province in China and New Jersey in the US, WKU is committed to preparing students to succeed and innovate in today's knowledge-based economy.
Behind this success is the strong sense of partnership between Wenzhou-Kean University and Kean University, which began in 2011. "We are the outcome of the partnership of two parties and could be the bond between the two sides," explains WKU's chancellor, Wang Li. "The way we have cooperated between China and America, the two largest economies in the world, to establish WKU, is significant." He believes that with a US educational background and a strong patriotic sentiment, WKU students can enhance bilateral communication and will stand out in an era of globalisation.
Lessons to learn 
When he became WKU's chancellor, Dr Wang visited other partnership universities including the University of Nottingham Ningbo, Xi'an Jiaotong-Liverpool University, New York University Shanghai, Duke Kunshan University, the Guangdong Technion Israel Institute of Technology, The Chinese University of Hong Kong in Shenzhen and Beijing Normal University-Hong Kong Baptist University United International College, to learn about their challenges and experiences.
Dr Wang observed that every university had their own academic fields of strength, and that there were lessons to be learned from similar partnership institutions. How universities are managed and the model for cooperation are also key differentiators: "We need to learn from them and explore our own path," he says.
Importance of inclusiveness 
Dr Wang believes that academics at every level must embrace inclusiveness as a guiding principle. "A Chinese proverb says that Gentlemen seek harmony but not uniformity. This might be the best explanation of inclusiveness," he says. "I champion this when we cooperate with Kean University, manage students and plan for WKU's development."
He adds: "At present, the world situation is much more complicated, seeing increasing conflicts among different values. At this critical moment, I do believe inclusiveness is more important than ever."
But how does he define inclusiveness? It goes beyond accommodating different views, regional and ethnic cultures, according to Dr Wang. He explains: "It requires us to maintain independent thinking amid understanding and assimilation, to view issues critically and innovatively with a global perspective, so that we form a complete worldview and values."
"This is, what I believe, is the most important and challenging part of internationalised education."
The hope of tomorrow 
At WKU, students experience inclusiveness at first hand, according to Dr Wang. They can enjoy events such as dinner with the chancellor, student research day and international conferences, or take part in organisations such as the student government. Dr Wang believes that giving students the opportunity to express themselves is crucial to building a university that is future-oriented. He adds: "I am glad to hear new perspectives from the young generation. They are the hope of tomorrow."
WKU students have become actively involved on the world stage, participating in APEC conferences and world youth leadership training camps, as well as other international volunteer initiatives and exchanges.
Dr Wang has long maintained inclusivity and embraced a spirit of lifelong learning, with a noteworthy academic career. Prior to this role, he served at the Office of International Relations and the International College at Zhejiang University. During his career, he has visited 150 universities across more than 40 countries, and has achieved outstanding academic recognition in the fields of functional polymers and nanomaterials. He has also published more than 300 SCI/EI papers that have appeared on the Science Citation Index (SCI) and the Engineering Index (EI).
Looking to the future 
WKU's strategic plan towards 2025 is ambitious. The past year witnessed the expansion of its academic portfolio to include three doctoral and eight master's programmes. It also plans to make considerable investments in infrastructure, with a projected capacity of 7,000 students in five years.
This means the university is investing heavily in several major construction projects, including new buildings for science and technology, and architecture and design. Other plans include a new student centre and advanced research laboratories.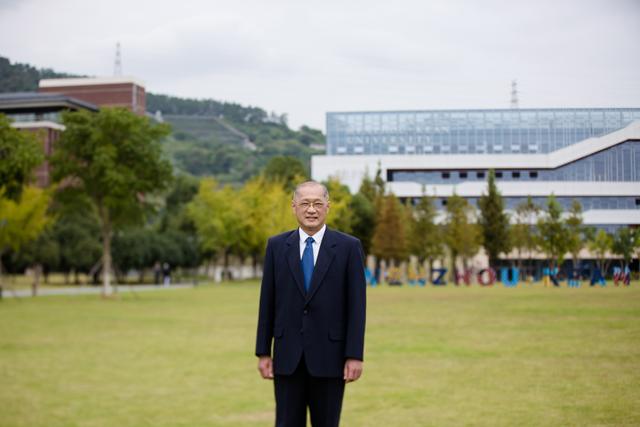 Wang Li, chancellor, Wenzhou-Kean University
Wang Li gained his PhD at Zhejiang University. After the completion of his post-doctoral research in University of Waterloo in Canada, Dr Wang returned to China. He is a Qiushi Distinguished Professor and a postdoctoral supervisor at Zhejiang University, a fellow of the Royal Society of Chemistry and has been granted the special government allowances of the state council. He was previously a visiting professor of Yale University, the University of Washington, and the University of California, Irvine. In February 2019, Dr Wang was appointed chancellor of Wenzhou-Kean University.
To find out more, visit www.wku.edu.cn/
https://flipbooks.timeshighereducation.com/19712/41921/index.html?79414
For the periodical: P28-29