ZACH MILLS:Words, Stories, Inspiration
Dr. Zach W. Mills is a Lecturer of College of Liberal Arts. He got his Ph.D in Rhetoric and Public Culture from Northwestern University. He is also the founding director of the University's first Speech & Communications Lab. He studies the intersections of race, rhetoric, religion, media, and popular culture and is the author of the Amazon Bestseller and award-winning biography about civil rights hero Reverend Clay Evans entitled, The Last Blues Preacher: Reverend Clay Evans, Black Lives, and the Faith that Woke the Nation. The Last Blues Preacher won best biography in the 2019 International Book Awards.
He has taught communication courses at several U.S. institutions including Northwestern University, University of Chicago, Chicago Theological Seminary, and Belmont University. He has taught communication classes throughout China with Toronto-based educational startup OneClass, recently featured in Forbes.
Grew up in a family that looks like the United Nations, he has always wanted his writing to inspire people to be more caring, open, and thoughtful to one another. Through his writing, speaking, teaching, and consulting Dr. Mills works to inspire change and help people find and develop authentic voices – especially within unfamiliar and challenging environments. He is a storyteller who uses the power of words to help people thrive in their personal and professional lives. He believes teaching people to become more informed, intentional, and compassionate communicators can make world a better place.
The followings are his understandings of power of words.
1.What brought you to WKU? How are you getting used to the teaching life here?
I ended up at WKU in the most unexpected way. A company on LinkedIn that was featured in Forbes hired me to teach public speaking classes for about a month in China in 2018 and 2019. I had an incredible time. I loved teaching Chinese students English because it was a challenge. My students would tell me that they are so shy. Growing up as an incredibly shy child I have always been passionate about helping people conquer their fears of public speaking. Not long after I finished my last teaching contract in China in 2019 the opportunity at WKU came along. I jumped at the opportunity. I wanted to go back to China to help students who were like me—students who had things to say but who were terrified to stay them out loud. Now I get to spend my days helping people conquer their biggest fear in life! It's such a rewarding feeling.
2.Is there an important moment that prompted you to decide to study communication?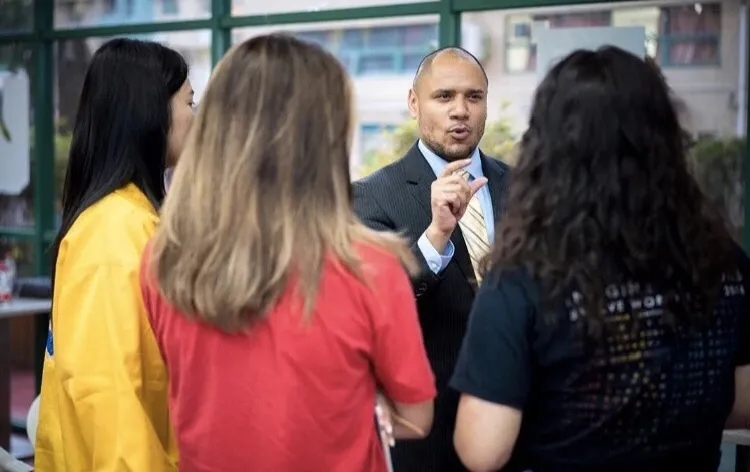 It's more like an important memory. My father spent his career as an Audiologist and Speech Pathologist for the Veterans Affairs Hospital. I watched my father spend his career helping people who had traumatic brain injuries from combat and had problems speaking and swallowing. When you can't communicate clearly to people you can feel trapped, disconnected from the world. My father helped people reconnect with the world. My father's career had a significant impact on me. I wanted to do similar work. As a public speaking and communications teacher, my goal is to help people overcome similar challenges with their speaking so that they can connect with others.
3.If you like, could you please talk about the impact of family on your life?
Family is the most important thing in my life. I come from a family of great storytellers. Every time my family members and I are together we are always talking about the funny, meaningful, and significant stories from our lives. I learned from my family—and my parents in particular—the beauty and power of words.
4.You are the founding director of the University's first Speech & Communications Lab. Could you please introduce the lab for us? (The original intention and function…)
I am very excited about serving as the director of WKU's first Speech & Communications Lab. I'm currently teaching remotely in the United States so I'm in the process of working with WKU to build the Lab and the work it will do for university students and the surrounding community. WKU's Speech & Communication Lab will be a resource that helps students, parents, and citizens of Wenzhou become more confident and effective communicators. We'll even find ways to connect the WKU community with people around the world.
5.How to understand the "power of words"?
Words have the power to change things. That's why I've always loved about words. They have the power to hurt and heal. My job as an educator is to empower students to use words to build things.
6.What qualities do you think a storyteller needs?
A storyteller needs a great imagination.
7.Your book The Last Blues Preacher won best biography in the 2019 International Book Awards. What was the original intention of writing this book and what do you want to convey through this it?
The Last Blues Preacher tells the real-life story of Chicago gospel singer and pastor Rev. Evans. He worked with Dr. Martin Luther King Jr. to bring a divided nation together. My original intention of writing The Last Blues preacher was to tell an inspiring story of a person used the power of words to fight for oppressed people. I wanted to tell the story of an underdog—a person who is expected to succeed—for people who feel like they are struggling to succeed. I wrote this book to inspire others to use the power of their voices to help others.
8.Have you encountered any difficulties in writing this book? Do you have any suggestions for those who are writing or aspiring to write books?
Oh yes! I encountered many difficulties writing The Last Blues Preacher. Writing a book will involve lots of difficulties. My advice for anyone writing or aspiring to write a book is to set a goal for the amount of words you want to write each day. Set that goal. Then meet that goal each day you schedule for yourself to write. Setting a word count goal every day or any day you schedule for yourself to write is a great way to hold yourself accountable. But the most important thing to remember is that words have the power to help others. So for any writers or aspiring writers who are encountering problems in their writing I say…keep writing! Your words have the power to make someone's life better.
Writer: Yoki Chen