Kean University President Dr. Lamont Repollet invited to attend the Online Celebration for National Day
To celebrate the 72nd Anniversary of the Founding of the People's Republic of China, the Chinese Consulate General in New York conducted an online celebration event on September 29th, inviting people on all fronts to exchange friendship and blessings. Dr. Lamont Repollet, President of Kean University, was invited and extended his best wishes.
Dr. Lamont Repollet reckoned that education plays a pivotal role in enhancing understanding and cooperation between peoples and cultures. The success of Wenzhou-Kean University demonstrates the close link between China and America and promotes the individual development of its students. He extended his keen wishes of constantly advancing the development of the University.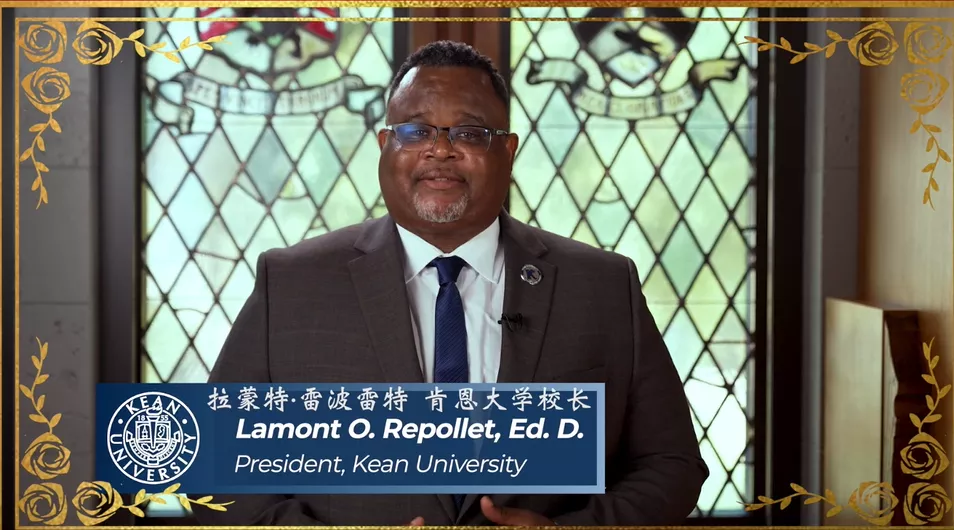 Nǐ hǎo and happy 72nd anniversary to the People's Republic of China!
I am Dr. Lamont Repollet, president of Kean University, and it is an honor to be able to share this message in recognition of National Day of China.
As the former New Jersey Commissioner of Education, and now president of this extraordinary university, I believe there is no better foundation to foster understanding and cooperation between people and cultures than education.
China — one of the world's first civilizations with one of the fastest-growing economies around the globe.
Our vision came to fruition in Wenzhou-Kean University, which continues to grow and develop beyond all expectations.
W-K-U currently serves more than 3,000 students — from China, the United States and around the world — and its reputation has soared as an international institution that prepares students for their next steps — whether that means getting an advanced degree at a prestigious university or entering the global workforce.
The success of Wenzhou-Kean University — the expansion of the campus itself and the increase in enrollment — speaks to the strength of the strong ties between our two countries.
This unique partnership creates the ultimate cross-cultural exchange. Not only do our students learn in the classroom, they also learn from one another on different continents, which strengthens their professional and personal development.
I am immensely grateful to our Chinese partners and to the people at Kean U-S-A who continue to work together to help this university — and especially our students — thrive.
I look forward to continuing to collaborate with our partners in China to further develop this great institution—and to celebrate events like National Day of China, together, well into the future.
Translator: Haina ZHU, Shenlan LOU
Editor: Alisa LAI (LAI Qiuhong)