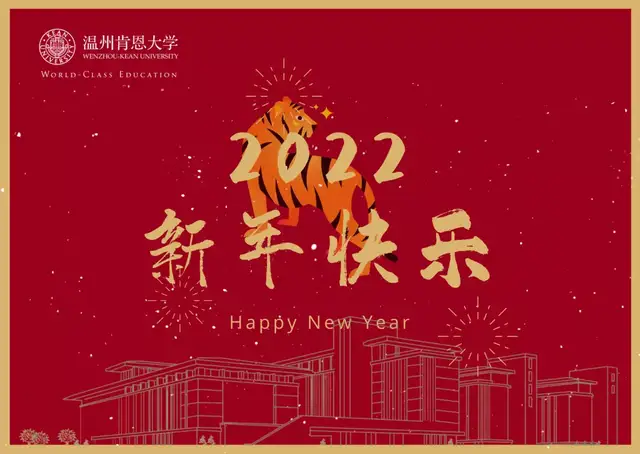 Dear WKU community, alumni, and friends,
Glorious flowers in spring will bring solid fruits in autumn.
As the new year is coming around, on behalf of the Wenzhou-Kean University, we would like to extend our sincere greetings and best New Year wishes to the whole WKU community, alumni, and friends who have cared and supported the construction and development of the University.
2021 is a year full of expectations and we remain committed to our mission and continue to forge ahead. This year marks the 15th anniversary of the signing ceremony of the creation of WKU and its 10th  year in operation. To review our history, summarize experience, and show our accomplishment, we held the Promotion Conference to Build WKU into High-level International University, Education Internationalization and Higher Education Governance Forum, 10th Anniversary Celebration Conference, Ministry-University Consultation Meeting, and Advisory Committee meeting. We also held various events including academic forums, cultural and sports activities, and alumni homecoming. We gathered with leadership at various levels, friends from all walks of life and alumni both in China and abroad in-person and virtually, planning and promoting the development of the University. This year is a new start that we gather strength, build on past achievements, and strive for new progress. WKU is now forging ahead with great determination of becoming a "model of China-US cooperative university", and a high-level world-class university.
2021 is the year with great academics accomplishment and continued improvement in education quality. This year WKU welcomes around 1300 freshmen, and the current student population has reached 3500, including 80 graduate students. Three graduate programs are added; namely, Global Management, Computer Information Systems, Architecture, and two undergraduate programs are added: Management (Business Analytics Option) and Psychology (Forensic Psychology Option). Biology and Mathematical Sciences are approved as provincial first-class undergraduate programs. Thirty courses are accredited as a "provincial first-class off-line course". We established Zhejiang Provincial Bio-informatics International Cooperation Base and Wenzhou Municipal Key Lab for Applied Biomedical and Biopharmaceutical Informatics, filling the gap in the area of Biopharmaceutical Informatics lab in Wenzhou. Students won many awards in international competitions. Among the Class of 2021, more than 60% of them choose to further their studies in the world's most prestigious universities and 60% of those students are accepted by QS Top 100 universities. Our 160 faculty members come from 35 countries and regions globally, building a global talent pool. In the 2021 Best Chinese Universities Ranking released by Shanghai Ranking Consultancy, Wenzhou-Kean University ranks the 163rd. Many international indexes rank top in the Zhejiang province.
2021 is the year of joint construction and rapid development. The construction of an international campus is in full swing. Projects including student residence phase II, laboratories, stadium, the Ge Hekai Hall, and the Farahi Garden have passed acceptance checks; meanwhile, other projects including the Student Learning & Activity Center, the College of Science, and the Administration Building are making encouraging progress. We also received the approval to build student residence phase III, faculty housing phase II, and residence for international students. Our campus was listed in the Top-10 Wenzhou Iconic Projects, 100 Projects for the Centenary of the Founding of the CPC, and Sponge City Projects. WKU enhances talent introduction and retention by establishing Wenzhou's first school for non-Chinese employees – the Zhejiang Wenzhou Union International School and awarding the plaque of Wenzhou-Kean University Experimental Primary School to Wenzhou Guangchang Road Primary School (Bai Luzhou Campus). We carry forward the industry-university integration, establishing cooperation with county education bureaus on graduate student training, University of Chinese Academy of Sciences Wenzhou Institute on laboratory platform sharing, and such counterparts as Zhejiang University Wenzhou Institute, Wenzhou Medical University, Wenzhou University, and Zhejiang Provincial Center for Disease Control and Prevention. We have also launched the University-Enterprise "4+3+2" Global Business Elite Undergraduate-Master Training Program, contributing to local economic development and implementing new models of joint student training with local enterprises, including Huafon Group, Dafa Group, Guansheng Group, OHT Group, China Minsheng Bank, Josiny, Red Dragonfly, and Newford Research Institute of Advanced Technology.
2021 is the year of further cooperation and joint endeavors. The University enhances collaboration with Kean University via High-Level Administration Meetings, virtual internship starting in Spring, and student exchange program resumed in Fall. We push the boundaries of international cooperation, as we negotiated on collaboration with the University of California, San Diego, and signed the memorandums with the University of California, San Diego, and Kajaani University of Applied Sciences, Finland. We endeavor to tell China's stories to the world better and establish an international communication platform. In the 2020 "Tell China's Stories" Contest held by China Foreign Languages Publishing Administration, WKU won the First and Third Prizes, and the Prize for Academic Support.
A new chapter of innovative practices awaits its writer as we farewell the year of splendor. 2021 is the starting year of the 14th Five-Year Plan, when major changes unseen in a century come hand in hand with challenges posed by the pandemic. Embracing the new context of development and riding the era's new wave, higher education has entered a new phase and shouldered new missions. It is time cooperative universities have what it takes to respond to new challenges. We stay true to the original mission and ceaselessly pursue excellence.
The hardship always comes in humble disguise, making success seem easy yet the most challenging. The first decade witnessed the striking development of WKU and the committed will of the WKU community. In the coming year, we will bear President XI's message in mind, implementing spirits from superior governments, holding the fort of cultivating talents, marching in line with the development trend of the times, expanding cooperation, and upholding historical missions. We will also promote in-depth reform and high-quality development via opening up to become a demonstration for Sino-foreign cooperation, a bridge that connects people-to-people exchanges, a cradle of global talents, and a model of local services.
The scroll unfolds as we embark on a grand new journey. As we march forward toward our horizon, we will trust with pride in our education. Happy new year, and may joy be around your family!