2023 New Year's Greetings from Wenzhou-Kean University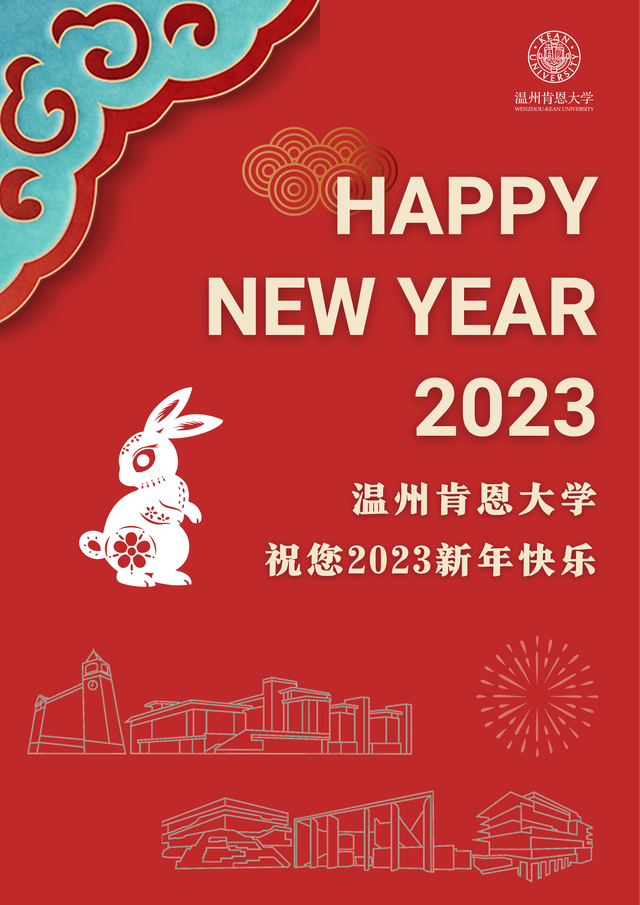 Dear WKU community, alumni, and friends from all around the world,
2023 is coming, and at this special moment, on behalf of Wenzhou-Kean University, we extend our sincerest gratitude and best wishes to all members of the WKU community, alumni and friends who have been supportive and caring from all over the world.
In the past year, we bravely battled our way through the COVID-19 pandemic, and now the game point is near. Hold on, and the light of victory is right ahead of us.
Tomorrow, we will turn to a brand new page.
The year of 2022 has never been an ordinary year. It has witnessed China's another leap in social and economic development. It marks the beginning of WKU's second decade of growth, and the in-depth implementation of WKU's new five-year plan.
In 2022, we stayed true to the original mission, and enhanced teaching quality. Despite the global pandemic, WKU carried forward global faculty recruitment, and introduced high-level talents including a Distinguished Professor of Changjiang Scholars. With Kean University, we passed the accreditation of the Middle-State Commission on Higher Education. Accounting and Architecture were listed as provincial top-tier undergraduate academic programs. General Psychology, Principles of Microbiology, Marketing Research Materials, Principles of Marketing, Introduction to Supply Chain Management, and UIUX Design were listed as provincial top-tier courses. We have declared 36 provincial or higher-level research projects, and published 204 high-level theses.
In 2022, we united our undefeatable will, and attached great importance to student admission and training. We saw off the very first cohort of WKU's master graduates from Instruction & Curriculum and Biotechnology Science. Many of them were employed by educational institutions. Among the 2700 graduates, more than 60% of them were admitted by prestigious universities such as Harvard University, Columbia University, and University College London. In 2022, we recruited 1300 undergraduate students from Gaokao, independent admission, Hong Kong, Macao, Taiwan, and all around the world. We also recruited 119 master's and doctoral students. By the end of December 2022, we have 4200 students at WKU. The student population has been growing at a rapid pace and the level of education has been elevating.
In 2022, we fearlessly set sail against roaring waves, and accelerated our pace to build an international green campus. With our joint efforts, the campus is becoming increasingly beautiful. As one of the pioneers in the Zhejiang Green Campus Scheme, WKU was awarded "Zhejiang Green Campus (Higher Education)". The stadium and the swimming pool have been completed, optimizing students' living and learning experiences. The administration Building, Student Learning and Activity Center, Science Building, and International Student Residence are ready to open. The Ge Hekai Hall, also known as the Architecture and Design Building, won the Chicago Atheneum and European Center International Architecture Award 2022.
In 2022, we shouldered our responsibilities, and promoted local-university cooperation. Bringing the advantages of WKU's international platform, we enhanced our cooperation in areas of education, academic, research, and people-to-people exchange. We have established cooperation with Zhejiang CHINT New Energy, Zhejiang Huayuan Auto-Mobile, Zhejiang Subtropical Crop Institute, Zhejiang Association for Science & Technology, etc. We also signed the agreement on Common Prosperity with 9 mountainous counties including Wencheng and Taishun. Activities including 2022 World Young Scientist Summit sub-sessions and Green Development Forum were held. In December, WKU was listed as Zhejiang International People-to-People Exchange Base.
We have marched thousands of miles, and we never hold our steps. The momentum of WKU comes from each and every one of you who are committed to your careers. We never stop running, and so do WKU.
The new pandemic prevention and control policies mark the beginning of China's post-pandemic era in 2023. The more unforeseen changes the era brings, the more battles we need to win. The more diversified the future gets, the braver we pioneers need to be when we explore. In 2023, we will continue to uphold education opening-up and high-standard student training, striving for insightful construction, in-depth education reform, internationalized talent training, leading program development, efficient exchange mechanism, and a high-level internationalized university.
In the end, we wish you and your family health, wealth, and all the best.
2023, we are chasing the light.
WANG Beijiao
Chair of Board of Directors
WANG Li
Chancellor, Foreign Member of the Russian Academy of Engineering